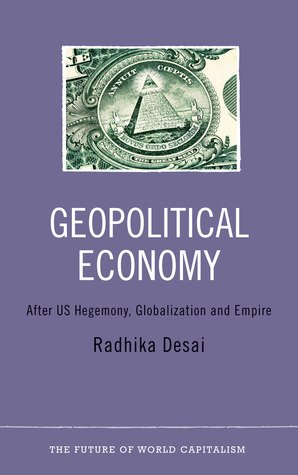 Geopolitical Economy: After US Hegemony, Globalization and Empire (2013), written by Radhika Desai
Geopolitical Economy radically reinterprets the historical evolution of the world order, as a multi-polar world emerges from the dust of the financial and economic crisis.
Radhika Desai offers a radical critique of the theories of US hegemony, globalisation and empire which dominate academic international political economy and international relations, revealing their ideological origins in successive failed US attempts at world dominance through the dollar.
Desai revitalizes revolutionary intellectual traditions which combine class and national perspectives on 'the relations of producing nations'. At a time of global upheavals and profound shifts in the distribution of world power, Geopolitical Economy forges a vivid and compelling account of the historical processes which are shaping the contemporary international order. (Pluto Books, 2013)

About The Author
Radhika Desai is Professor of Political Studies at the University of Manitoba, Canada. She is the author of Slouching Towards Ayodhya: From Congress to Hindutva in Indian Politics (2004), Intellectuals and Socialism: 'Social Democrats' and the Labour Party (1994), editor of Developmental and Cultural Nationalisms (2009) and co-editor of Revitalizing Marxist Theory for Today's Capitalism (2011).

Read the Reviews
James Parisot, Review of Political Economy, Sept. 2014.
Chirashree Dasgupta, Economic and Political Weekly, Sept. 2014.
Sudeep Regmi, Marx & Philosophy, Mar. 2014.
Sally Bland, The Jordan Times, April 2013.
Peter Fleissner in Volkstimme (German), August 2013.
Mel Watkins in Canadian Dimension , September 2013.

Translations
Excerpt from Geopolitical Economy (translated into German), January 2015.